Seth Walker
(USAW Level 2 advanced sports performance coach, NASM PES, Crossfit Strongman, CrossFit Level 2 Trainer)
Seth is the kind of coach that everyone loves training with. Whether you're an advanced Olympic lifter, CrossFit competitor, stay at home mom, or first time CrossFitter, Seth is the man for the job. Seth's laid-back style makes everyone he trains feel at ease and comfortable while his highly effective instruction yields daily progress and results. Seth also leads Athleo, our Olympic Barbell Club, which was the first barbell in East Texas and its members celebrate consistent improvements in their lifting as well as many new PRs. Seth is also what you might call a sock lover and daily struts one of his many pairs, setting the bar for "sock swag" pretty high.
Known for saying: "Never compromise the quality of your movements. Remember…technique, consistency, and then intensity."
Favorite Movement: Snatch – It's a love hate relationship
Favorite Girl: Karen

Joseph Dappen
(CrossFit Level 1 Trainer)
Joseph Dappen both an incredible trainer and athlete. On any given day, you will see him teach a class and then turn around and do it himself. He's the ultimate example of daily practicing all the things that he gives away teaches as a trainer. Joseph works with athletes at any level – From advanced lifters, to first timers, to very young little athletes. Joseph specializes in the ability to give each person undivided, personal attention and excellent instruction. Even in class, if he's teaching and helping you, you'll feel like you're the only one in the room. And don't be surprised if he decides to jump in and work out right along with the class or swings from the ceiling on the ropes… you just never know with Joseph!
Known for saying: "Trust the process"
Favorite Movement: Strict Pull-up… Because it's such a foundational movement.
Favorite Girl: Amanda

Thacher Riddle
(CrossFit Level 1 Trainer, Personal Trainer, Sports Performance Coach, Level 1 USAW Certified)
Thatcher is an outstanding coach in every way. He knows just how to asses particular weak points in each individual and give outstanding instruction that translates into vast improvements whether in lifting, sports performance, or CrossFit. His positivity and encouragement leave everyone he trains feeling accomplished and motivated while his training style gives incredible content and solid takeaways for each athlete he invests in. Thacher loves working with Olympic lifters, experienced athletes, adaptive athletes, kids who are eager to learn the mechanics of becoming an athlete, and anyone who has the desire to change for the better. His life motto is, "Live in the moment" … So even though you'll be working hard, training with Thacher is also a lot of fun!
Known for saying: "Don't think, just lift"
Favorite Movement: Any kind of squat.
Favorite Girl: Grace

Joshua Jericho Littauer
(CrossFit Level 1 Trainer)
Joshua is a CrossFit competitor as well as a very knowledgeable and effective coach. Joshua has competed in many CrossFit competitions, including the 2016 CrossFit Regionals, and knows what it means to work hard to excel at something you love. Josh is passionate about coaching both CrossFit beginners as well as those looking to step into the competitive arena and by his thorough coaching, encouragement, and knack for tweaking movements he pushes those he trains to the next level. Josh is known as "The Gorilla" around here and if you hang around him for long, you'll know why.
Known for saying: "When in doubt, squeeze your butt."
Favorite Movement: The snatch. Particularly if done for a 1 rep max.
Favorite Girl: Fran. Short, sweet, and potentially devastating. I love it.

Maranatha Chapman
(CrossFit Level 1 Trainer)
Maranatha is affectionately known as the "box mama" at Premier. She's encouraging, strong, enthusiastic, and highly motivational to everyone around her. She prizes quality in movement, loves teaching, and thrives on helping each person reach their personal best at whatever they set their mind to. She specializes in bringing out the inner athlete in each person – helping them believe in their potential, refine their movement, and then pushing them to show up and give 100% every single day. She's a cheerleader and a beast… And don't be surprised if you hear just about everyone at the box call her mom!
Known for saying: You can do anything for five minutes!
Favorite Movement: Overhead Squats or anything with a Kettle Bell.
Favorite Girl: Nancy!

Clara Palacios
(CrossFit Level 1 Trainer)
Clara is best described as strong, consistent, and easy to love. She is excellent at helping each person she trains find their unique goals and stay motivated to achieve exactly what they set out to do. Clara's instruction is simple yet effective, which makes her an outstanding trainer for any CrossFitter. Clara was born and raised in Belize…but don't let her exotic beauty and luscious hair fool you. This girl is strong!
Known for saying: If all else fails, do some squats!
Favorite Movement: Back Squat
Favorite Girl: Annie – Because double-unders are tons of fun!

Ezra Chapman
(CrossFit Level 1 Trainer, Personal Trainer, Sports Performance Coach, Level 1 USAW Certified)
Ezra's love for CrossFit shines through in everything he does, both in his own training and in his coaching. He has competed in not only the CrossFit arena but also on a national level in olympic lifting. Ezra's thorough knowledge and true passion for CrossFit makes him a great coach for the beginner and seasoned athlete alike.
Known for saying: "Trust the Process"
Favorite Movement: Snatch
Favorite Girl: Amanda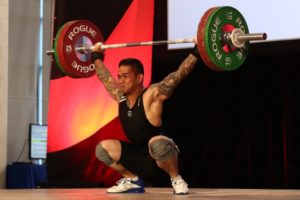 Chino Flor
(CrossFit Level 1, Precision Nutrition Level 1, Basic Life Support, Physical Therapist.) 
Chino Flor is the true embodiment of what it means to love CrossFit… He lives it and breathes it every time he walks into the gym, whether that's in coaching, competing, or jumping in on a class. This passion, coupled with Chino's background in physical therapy, makes him an incredible coach for athletes of all levels and capabilities. Chino's enthusiastic and informative coaching style makes everyone he trains feel like they are the only person in the room.
Known for saying: "Movement is life"
Favorite CrossFit Movement: Double-Unders
Favorite Girl: Isa-Grace