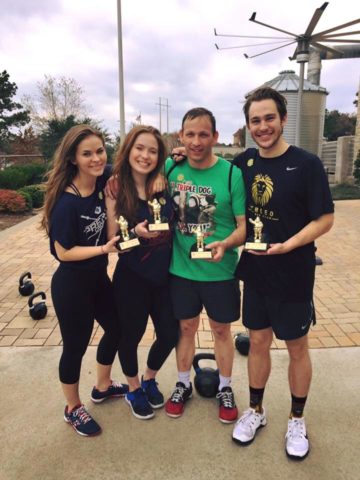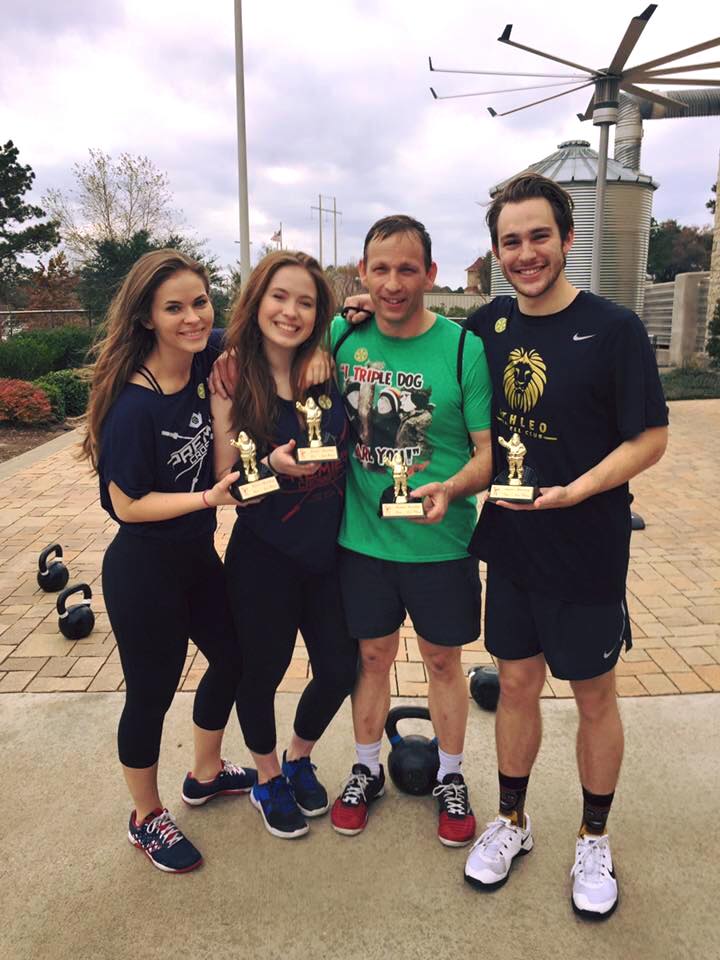 By: Maranatha Chapman and Chris Jones.
We have many couples, families, roommates, lifelong friends, and coworkers daily come through the doors of Premier to workout together… Who enjoy sharing the challenge, the reward, and the hard work that CrossFit entails, side by side. But one of our very favorite things is seeing parents and their kids working-out together. Many of our older members naturally look after the younger ones and play a mentorship role in their life and getting to witness these relationships helps us all grow. There is something so incredible about watching these special, unique, and sometimes hilairous parent-child duos workout alongside one another. So over the next few weeks, we will feature just a few of our parents and adult kids who work out together! 
Kirk and Kory are that father/son duo that you might see featured in one of those heart-warming Christmas movies. They look alike and both have an instantly likable, gentle approach with everyone they come in contact with. They are the most respectful, diplomatic gentlemen, while simultaneously being the "the good guys" you cheer for while watching them utterly defeat the challenge in front of them. Kirk has affectionately earned the title of "The WODFather" around the gym, his presence being a constant staple of our community. Kory has quickly followed in his footsteps by being one of the most consistent athletes you'll ever meet when it comes to training. We asked them a few questions and loved their responses!
What do you like about working out with your parent/ child? 
Kirk: Kory and I are 30 years apart in age. That is probably the biggest difference we have. My wife often says that I have cloned myself in Kory. The past year has been a great joy for me to do CrossFit with Kory. It's kind of funny that he used to joke with me about why I would get to the box 20 minutes early for a WOD. He'd say, "You gotta get your social time in Dad?" I would laugh but totally agree!!! CrossFit is all about community with others and it became attractive to Kory, as well!! He now goes thirty minutes early.
Kory is very competitive and we are very similar in this regard. Though, we aren't so competitive as to win at all cost. We both like it when others succeed and win or meet their goals. That's clear when you here Kory talking about coaching kid's with Next Level soccer. He's loves it and is a great coach because he wants others to accomplish and thrive. CrossFit has given me that same joy in coaching others. I got my CF L1 this year and am finishing my internship with PCF in the next couple months.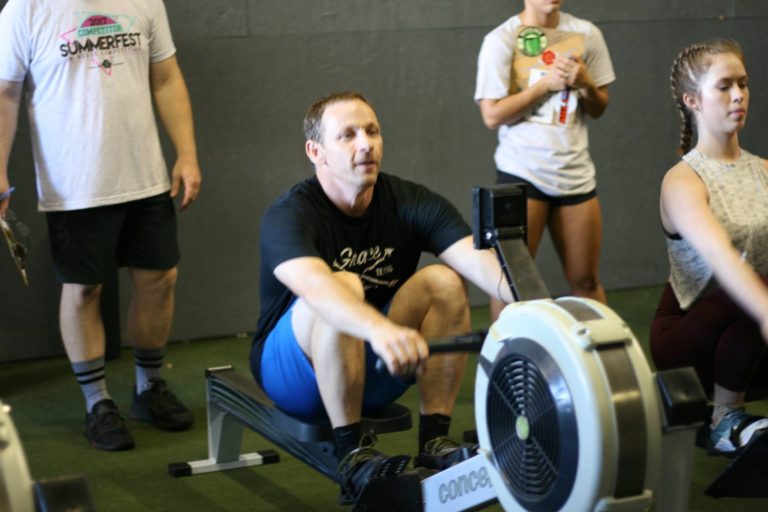 Kory: My dad and I are very much alike. We often make the joke we are twins and I was born 30 years late. It's been really enriching to do CrossFit with him for a few reasons. One is that it has created a super great connection between us and we bond over a common interest we both find exciting. Before I began really immersing myself into the community at Premier, I would poke fun of my dad for going early to socialize but now I find myself arriving before class to check in with my coach and CrossFit family. I also love that we push and inspire each other in different areas but specifically our goals.
I've enjoyed competing against the WODfather because of the incredible reputation he has built up around the gym as being such a strong athlete even nearing the age of fifty. He inspires people with his drive and competitiveness and that is something to look up to as I begin my coaching career of soccer and as an athlete. I think he will be a great CrossFit coach in aiding in people reach their goals whether it be getting their pull-ups or hitting a PR on their snatch.
What is something your parent is better at than you?
Kory: I am LIGHT speed ahead of my dad in a foot race. My gymnastics skills are also A1 and I've got him beat there all day long. Unfortunately, he has me beat on heavy loads as demonstrated at the Summerfest Comp when he beat me by FIVE POUNDS for the squat clean. I look forward to this so-called "old man strength" he summons. I think I am right on his heels, though!
Kirk: I really love watching Kory compete in the daily workouts and in local CrossFit competitions. He has really worked hard on his mobility and strength and shows promise to pass me on his lifts and other movements. The leaderboard is often a topic of discussion between us.  He takes pride when he can beat The Wodfather! Kory is definitely quicker than me but I think I would win a chipper with heavy loads….I have old man strength on my side HA!!! As far as competing at different movements… hand stand walks – I would destroy him.  Probably handstand push-ups, too. He beats me in long distant running – easy.  I have a healthy base so deadlifts, squats and power moves, he can't hang with the Wodfather.
Do you you have different goals?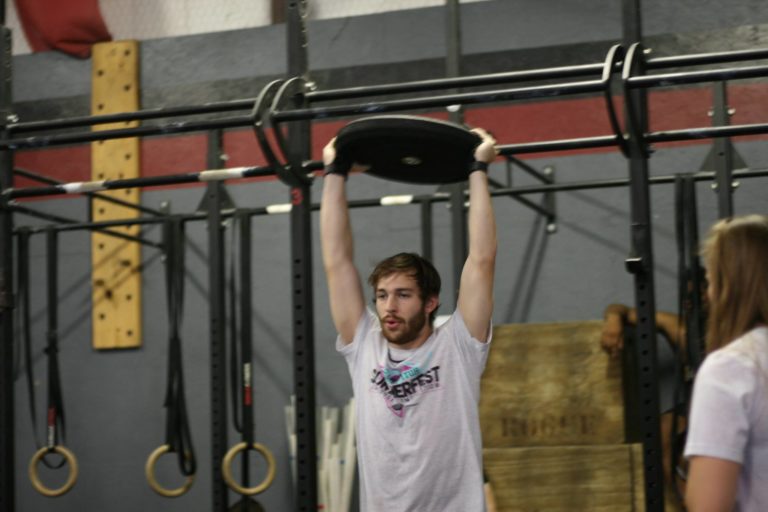 Kirk: We do have different goals and purposes with CrossFit. Kory is building muscle mass and I am working on core strength and functional movement. We both participate in competitions and they really motivate each of us. We look forward to possibly doing a team competition together. We might even do a Spartan Race soon!
Kory: While our goals might seriously differ, myself looking for gains and skill but my dad looking for his health and maintaining mobilization, we understand each other and can motivate each other to achieve those goals. 
Who eats better?
Kirk: On the nutrients side of things, Kory and I both agree that it is a flat out miracle that he is eating healthier now and it's because of CrossFit. Kory learned that eating well was a key part to his GAINZ!!  I will admit that I am better at cheat meals!!! He needs experience in that area. I have taught him to be a master griller and we love to eat BBQ ribs that I cook on the grill. 
Kory: Before CrossFit, if you would have told me I'd be eating fruits and vegetables, I would have said you were crazy. After I had been doing CrossFit for a while, it finally clicked what my dad and mom had been preaching about and that healthy eating is the KEY for not only making gains but maintaining them. It has also made cheat meals that much better and skills in the kitchen increase dramatically. And I've been opened up to a whole new world of good food.
Who has more CrossFit swag?
Kirk: I have the best CrossFit swag. I recently bought a King Kong bag… it's the bomb!  
Kory: I totally have the better CrossFit swag with the variety of cool combinations of shorts, shirts, shoes, and socks. I'm a firm believer in "look-good-perform-good."
Anything else you want to add?
Kirk: I am thankful for our CrossFit family at PCF and the community Kory and I are a part of at PCF.  I hope we can encourage others to try CrossFit. It has been great for us. The rest of our family have all done CrossFit at different times and have really enjoyed the connections we have made with other people.  
Kory: I am so incredibly thankful for the community at Premier. I hope our relationship will encourage others to come do CrossFit and grow with our family at PCF.
Premier Parent/Child Duos We Love: Kirk and Kory Hudson