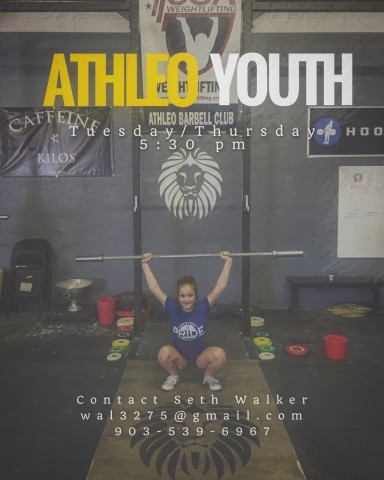 ATHLEO YOUTH:
Athleo Youth gives young athletes an opportunity to learn the Olympic lifts in a safe and effective progression. Our program is geared for youth who want to compete in Olympic Weightlifting or who are looking to become stronger and more explosive athletes for their respective sport. Weightlifting is one of the safest sports youth can be involved in. This a great way for them to get a jump start to learn the lifts correctly before entering into weight training with their school.
Our goal is to provide a positive environment to help our youth grow into stand up young men and women. We care far more about the development of our athlete's character, than the amount of weight on their bar. We look to mentor and teach them life lessons that they can take with them into their adult life. We offer scholarships for those who want to be a part our program but are unable to financially. You can fill out the application below to apply. You can also donate towards these young athletes scholarships below.
For more information about youth strength training, click here.